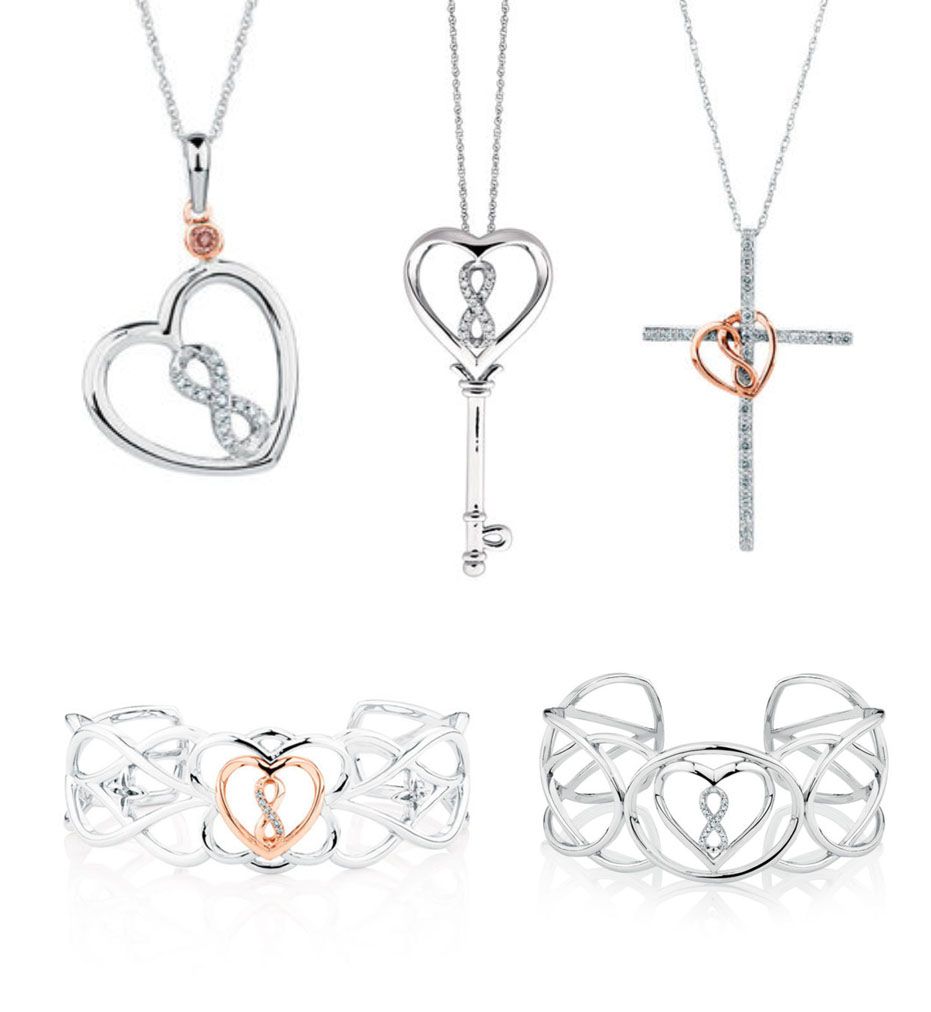 Since love is in the air and date nights are just around the corner, I thought it was only fitting to introduce you to my current lust list which includes delicate and understated jewellery pieces from
Michael Hill's Infinitas collection
.
The word 'infinitas' itself is the Latin word for 'boundlessness', although this can have many interpretations, 'infinitas' and the infinity symbol is conventionally associated with love and devotion and is used to signify eternity, empowerment and everlasting love.
The gorgeous mix of silver and rose gold accents from the Infinitas collection was what first caught my eye, you couldn't go past a store front without having to stop and take a glance. I love the clever placement of the infinity symbols within their understated designs, particularly with the
Diamond Infinitas Cross Pendant
and inside the intricacies of the cuff weavings.

Personally, I'm happy with any sort of gift, although it may not necessarily need to be jewellery, when it is, I do have a style preference and can be quite picky...so I thought about how difficult it must be for a guy to buy jewellery for his special lady and figured I would dedicate today's post to share some tricks that might give you extra guidance!
Tips for buying jewellery for your lady
For many guys, buying jewellery for a woman can be intimidating. Gifts like jewellery need to speak to a girl's personal tastes and be appropriate for the current stage you are in in your relationship. So if you're stammering down struggle street at the moment and you're thinking of getting her a necklace, ring, cuff or something similar, here are some tips to help you along:
Do your research and take note: Look through her recent photos either on her Facebook or recent pictures on your phone and get familiar with the accessories she wears. If you do come across some pictures, things to take note of are: Whether or not she likes large statement pieces or subtle delicate pieces, whether she prefers gold, silver, rose gold or pearls, whether she prefers long earrings, short earrings or whether her ears are even pierced etc..
Asking for advice: If you have you're not having any luck with point 1 but you do have access to your girlfriend's friend, sister or cousin's contact details handy, ask them for advice. Even if its via Facebook message, if they love her (and they approve of you ;) haha) then they will be more than willing to assist and give you some pointers.
Reflect on the occasion and relationship: It's important to know whether or not you're at a point in your relationship where giving jewellery is appropriate. If its still early into the relationship and the occasion is Valentine's Day then its okay to buy jewellery that she could wear during her day-to-day, save that expensive sparkly number for your anniversary. If you've been together for a long time and its her birthday, its probably the right time to spoil her a little and I'm sure she won't mind that promise ring (or any of the items from the Michael Hill Infinitas collection!)
Take her for a stroll: And if all else fails, take her for a stroll past a few jewellery stores and see if she stops to comment or look at something, as soon as it catches her eye, that's your excuse to enter the store and take a closer look yourself ;)
So there was my little chit chat for the day, I hope it helps some last minute shoppers and I'll hear from you post Valentine's Day, have a wonderful weekend full of love my loves!!